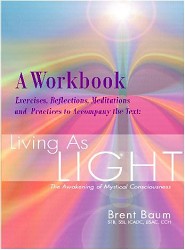 Create a New Relationship with Attention
Our Energy/Attention Flows Naturally When We Live as Beings of Light
Learn to Nurture Your Attention
In this introductory workshop series we'll use the 'Living as Light' workbook by Brent Baum for the 12 Principles of Manifestation. You'll learn:
the relationship between body/mind memories
the value of DayDreams
how to develop and explore your relatioship with attention and release your blocks to attention
how to apply this knowledge to business and relationships
Meeting each week for an hour and a half using group conversations and guided imagery/meditation techniques, we create an energetic relationship with attention. There will be reflections for in between sessions.
Where: Decatur, Georgia (location given on registration)
When: Wednesdays July 22, 29, August 5, 12, 19, 26
Time: 7 – 8:30 pm
Fees:  Registration payment deposit of $40 (using PayPal, $44)
Complete payment of $240 ($244 by PayPal) if after July 17, or by July 17 early bird payment of $180 ($184 by payPal)
For more information about this groundbreaking workshop, the first of its kind in Georgia contact Maureen Nolan at 404-713-0488 or email maureen@maureen-clone.mystagingwebsite.com.